Our new series of thrillers – produced and directed by CustomerXPs and Banking Technology – narrate the tales of the fight between the forces of good (the Clari5 analytics and anti-fraud software) and the forces of evil. Based on real events and guaranteed to keep you on the edge of your seat!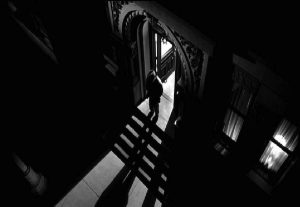 The alert flashes on the dark screen. His cat nap is disturbed by the "on/off" flashing on the monitor which causes his eyelids to flutter open. He looks at the array of numbers and text that appear to be just a vast, random set of data, for the lay person. But Oliver's trained eye and keen mind are attuned to pick out anomalies from this data load. Oliver wasn't called Hawk by his colleagues, the keenest, sharpest AFO (anti-fraud officer) at the Bank of Sentee (BoS) for nothing.
Oliver's eyes rapidly scan through Michael Hook's transaction history.
POS 12.30 pm SF, 22.07.16, Starbks
POS 16.30 pm SF, 22.07.16, Movtkts
POS 19.30 pm SF, 22.07.16, Metreon
POS 20.20 pm ABJ, 22.07.16, Fouani Electronics – there it was, popping out at him like a girl in a magenta halter in a room full of black tuxedos! Oliver quickly runs a check for country codes and finds ABJ is Abuja, Nigeria.
Oliver's fingers flew over the keyboard and his eyes scanned through Michael Hook's transaction history for the past seven days. Come on Clari5, he urged. Clari5, Oliver's best friend, obliged. Michael Hook's transactions seemed fine, no anomaly, no suspicious activity. So then what explained Nigeria?
Could Michael, a regular graphic designer, travel from San Francisco to Nigeria, a distance of over 7700 miles in 50 minutes? He ain't no Superman!
12.30 pm, 22.07.2016, Starbucks, 3595 California Street, San Francisco

"Good afternoon sir, can I take your order?"
"Hi. Mmm… I'll have a chicken BLT sandwich and a decaf Pike Place coffee, please."
"Sure. What name shall I add to the order?"
"Michael Hook."
"Have a seat and we'll call out your name. Have a good day."
Michael looked at his Fitbit. 12.33 pm. God! "Is it stuck or is it me?" he wondered. He looked thoughtful as he sat down, his mind unspooling the conversation he had with Jessica in the morning. Sigh! He swiped through his messages. "4.30 show, don't forget, J." Her curt response: "Yup."
He's got to make it up to her, he loves her too much to lose her. Thoughts swirled in his head like the steam from the coffee mug. Should he buy her something before the movie? A ring? Would she accept?
"Can I afford to get married?"

Technology is a savior. Michael checked his bank account on his smartphone. $10,578. He had the dosh. He felt a sliver of excitement welling up inside of him. Yes, maybe he would surprise Jessica after all. 
16.30 pm, 22.07.2016

Back in office Michael bought two movie tickets at movietickets.com. "Booked for To Steal From A Thief. See you at 6.00 – AMC Metreon," he texted. "See you" popped up on his phone. Michael continued to look at his text message knowing Jessica was still miffed at him, but his modus operandi was all sorted.
POS 19.30 pm SF, 22.07.16
"Large tub of cheese popcorn and two Diet Cokes, please!"
"That'll be $5.50. Thank you."
The counter assistant at the popcorn counter at the Metreon swiped Michael's card. It's intermission and Michael wanted to hurry back to Jessica. She seemed to be enjoying the movie. He knew it was all going to be okay.
POS 20.20 pm ABJ, 22.07.16, Fouani Electronics
"Come on Michael," Oliver muttered under his breath. "Tell me you're in San Francisco buddy and we'll be fine, just confirm it man." But Michael's phone was on "silent". He missed the SMS alert completely, and the second one as well.
"Breathe Oliver, it's okay Oliver, have sent the two alerts to Michael Hook." Oliver tried to soothe his frayed nerves. All POS transactions checked out. The last one at 20.20 ABJ seemed different. Was Michael in Nigeria? But Michael hadn't travelled anywhere in the last 12 months! Clari5 confirmed that. Oliver commanded Clari5 to give up Michael's transaction history for the last six months to double-check. No, nothing. Michael wasn't a big spender. And neither was he a defaulter. His last big electronics purchase was for a Kindle. Wow!
Oliver checked with Clari5: "do you think it's a fraudulent transaction?" Clari5 advised Oliver to refuse authorisation of Michael's card for $2,150 at Fouani Electronics, ABJ. That's it, Oliver made his decision. He ran a few commands and an SMS was sent to Michael disabling his credit card.
22.00 pm, 22.07.16
Michael looked at the two texts from BoS. His credit card was disabled. At that exact moment his phone rang. "Oliver Pagliace from BoS. Am I speaking with Michael Hook?" 
Two days later at Fiore d'Italia – 20.00 hrs.
"OMG! Really? Oh darling, when did you, I can't imagine…"
Michael just finished proposing to Jessica. With his credit card.
22.00 hrs, BoS branch, San Francisco, California – 24.07.16
The light from the monitor was blinking. Oliver was just biting into a sandwich. He turned around. Clari5 was at it again. This time it was Dar-es-Salaam.
"Gotcha."