"Will the bank branch survive?" has been a decade long (if not more) topic of debate. In a world where digital transformation makes headlines, the debate is often relegated to the background, surfacing only when its breaking news about the downsizing of any bank's branch network or when there's any socio-economic turbulence like the current situation. The debate is yet to reach a consensus.
Physical branch networks worldwide are being impacted by the shift to digital transactions. However, there has also been rising customer expectations for better in-person experiences at branches shaped by other retail experiences.
Several indicators suggest that branches are very much part of the future for banks and their customers. Despite differing needs and expectations, customers regardless of age and demographics share a common desire for greater personalization and the human touch at critical financial moments.
The branch network has a positive impact on customers' behavior and buying decisions because the physical presence helps provide a 'trust' dimension, even to digital-only customers, as it provides re-assurance. Also, there are several digital-savvy customers who use branch-based services very often.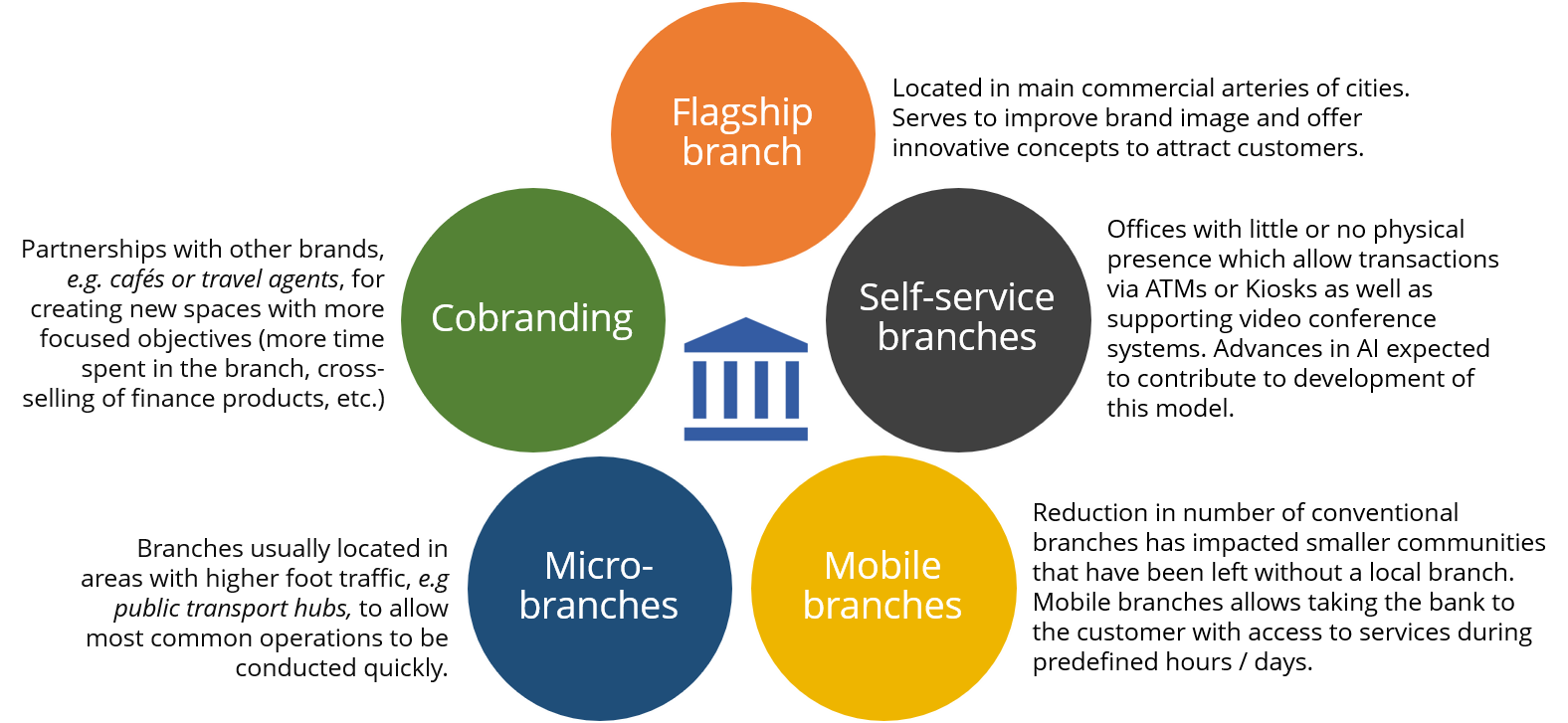 A substantial number of customers globally also want human experiences to be blended with the speed and convenience of digital – instant face-time with bank representatives via mobile, for instance.
This has significant implications for bank branches. Customers prefer digital for routine transactions but expect human contact when it is required, and the fact it is readily available in the branches provide reassurance – besides reinforcing the bank's brand. So, branches still have a vital role to play as visible, physical entities that provide positive and personalized experiences. The criticality of the branch therefore cannot simply be wished away.
Growth of Bank Branches: A quick look at the numbers
Worldwide, there are slightly more than 12 commercial bank branches per 100,000 population. However, in North America, the EU and Central Europe & Baltics the number of branches has been on the wane – from 30+ branches per 100,000 in 2009 to about 25 today. The US has had a 9% reduction in branches in the last 8 years, while in the EU there's been a drop from 33 per 100,000 to 22.1. In the US, JP Morgan Chase and Bank of America announced plans last year to open new branches. Chase is considering opening as many as 400 new branches in 15 to 20 new markets in the next 5 years, while Bank of America said it would open more than 500 new branches over the next 4 years (Fortune), including an expansion into the major markets of Ohio. In the rest of the world, the data shows branches growing, albeit from a relatively smaller base. South Asia grew from 7.8 branches to 10.6 over the same period. (The World Bank).
Remodeling the Branch Experience
Over the years, especially during the last decade, there have been some exceptionally innovative advances with certain banks completely re-imagining the branch banking model. A few new age banks and some of the traditional large financial institutions have been leading the way by transforming the branch network into experience centers.
Virgin Money, UK created a network of boutique customer relationship lounges to complement its branches. Developed as 'non-salesy' environments where customers can relax over a coffee, these lounges have been established in multiple cities. The lounges perform various roles including acquiring new customers, differentiating the Virgin Money brand and engaging with communities. They also act as a retail academy for staff training across the bank's network. The results have been remarkable. Visitors to the lounges are over 2000 in a day, and sales has doubled in the full-service branches located near the lounges.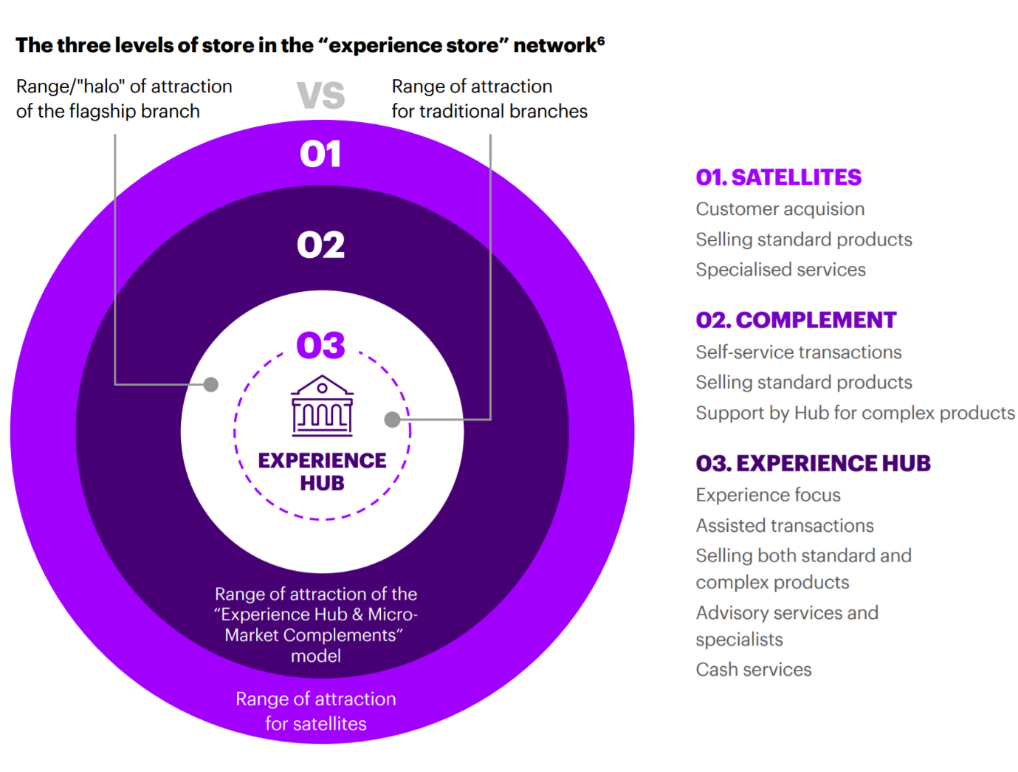 Source
Capital One, US has a flagship branch concept that incorporates free wi-fi and an in-branch café. The concept integrates digital experiences with physical presence and a human touch. A community space in the branch creates a comfortable environment for customers and the public – providing a better customer experience while increasing community engagement. The branch is completely equipped with digital tools, enabling customers and branch staff to have digitally-enabled conversations at the 'Genius Bar'. Customers can also chat with 'café coaches' (onsite bank representatives) over a cup of coffee about different banking products, or they can just hang out with friends and enjoy the café's food and free Wi-Fi. The café area attracts footfall into the branch, resulting in increased brand recall and higher sales opportunities. Tools that enable digital learning and support customers' migration to self-service offerings are also available.
To strengthen its position in Indian retail banking, SBI was aware that it had to engage better the millennials. SBI launched a digital banking program to remodel its branch environment and customer engagement to cater to India's fast-growing population of young consumers. The new sub-brand called SBI InTouch, reflected the differentiated service experience. A global team helped design, build, equip and launch the new branches. SBI became the first bank in India to develop and deliver a sub-brand targeting the country's young, digitally proficient population that began visiting the new branches in large numbers.
The first recorded use of a bank having a drive-up window teller was the Grand National Bank of St. Louis, Missouri in 1930. Drive-through banking has come a long way since then – banks are now using videoconferencing technology to assist self-service customers. This enables bank employees who are miles away to focus on the busiest locations while reducing costs bank-wide.
In a community where people work around the clock, FirstCapital Bank of Texas has 24-hour video teller service 5 days a week. The bank promotes the service to customers to 'bank during your hours, not the bankers'. BBVA has rolled out video conferencing devices at its Texas drive-throughs that function as standard ATMs and include video service features. Bank of America has been testing video-enabled ATM kiosks called 'teller assist' at some of their drive-up locations and within its branches. Customers can use the machines as standard ATMs or for video-chats with English or Spanish-speaking staff. Putnam County Savings Bank, a community bank in Iowa, has deployed interactive video terminals at some of their drive-up locations that have enabled the bank to lengthen the hours when tellers are on duty.
With social distancing precautions on currently, more banks that have drive-through capabilities are asking customers to drive-by. By converting branches into experience touch points (with optimal health precautions during the current phase), banks are able to provide customers with a unique experience that they will come back again for.
Reimagining branch transformation
Despite digitization, the branch remains a commercially successful channel and more importantly the axis around which the distribution model revolves. No other channel comes close when it comes to high-touch, in-person experiences. Discovering the optimum balance between physical and digital properties therefore is vital.
Consider these strategies –
Merging human and tech
Customers are more receptive to using branches when banks offer digital capabilities to enhance convenience. Enhancements include extending service hours (via virtual remote services) with a representative, digital self-service screens, and ability to schedule virtual video meetings with a bank representative. These options demonstrate how digital can drive high-touch interactions with the bank, whether remotely or in-person. While the methods have been around for a while they are not as widespread, but more banks are now experimenting with them.HSBC introduced a robot in its Manhattan branch to raise the bar on experience. The robot answers customers' basic questions and directs them to the right advisor/personnel in the branch. NatWest, UK introduced an AI-powered bot in one of its branches to answer customers' basic queries. The bot is integrated with internet and mobile banking.
Investing in branch talent
With digital simplifying experiences in branches, it makes sense to step up branch workforce training for conducting high-quality interactions with customers that result in positive experiences. The account opening process, for example, underscores the need for "attentive and empathetic human interaction by frontline staff. BBVA Compass is using certifications to train its frontline staff on helping customers with their complex queries and decisions. To help answer clients' complex questions about market trends, UBS, Switzerland trained their wealth management advisors to use the digital clone of their chief economist and chief investment officer.
Omnichannel integration
Having a consistent omnichannel experience is as important or very important when selecting a primary bank. Re-imagining branches of the future involves removing the channel silos between physical and digital channels and allowing customers to seamlessly move from one channel to another. ING Bank, NL allows customers to schedule appointments at the branch via their online banking portal.
Sense of community
Branch visits can go beyond transactions. They can become enjoyable social experiences to look forward to. Customers are likely to increase visits to a branch if it resembled a café, where they could plug in, hang out, or even work.
Adopting the human factor in digital channels
Digital does not mean zero personal interactions. Banks must match the branch experience, particularly empathy and responsiveness, in digital channels.
Bank branches are still relevant in a digital world and play a fundamental role in strengthening the image / brand of the bank. From traditionalists (ones most reliant on traditional channels) to online embracers (those who use digital channels frequently) to digital adventurers (those most likely to use digital channels), branch satisfaction has a higher influence on overall satisfaction when compared to satisfaction with digital channels.
Re-configuring the conventional branch model driven by the growing demand for a differentiated experience, is a good sign. While the jury may still be out on the future of branches, the one thing that is certain for the road ahead is – a renewed commitment to a whole new concept of branch banking and its integration into the bank's larger omni-channel strategy.
References:
Accenture: From branches to experience centers: transforming the branch network
Deloitte: Recognizing the value of bank branches in a digital world
McKinsey: A bank branch for the digital age